Ladies and gentlemen, may I introduce you to Seekie Simon, my makeup artist from Cloak and Dagger.  I absolutely adore her and the reason I have asked her to be a part of my blog is because I think it takes a certain amount of bravery and self-awareness to pivot in life.
Seekie started her career wanting to be an actor.  However, she soon realized she was much more interested in what was going on behind the camera.  She didn't necessarily know where this path was going to lead but she took that first step, which eventually led her to realize her passion and pursue makeup in the film and television industry.
I think it takes a lot to step outside of what you thought would be and into the unknown.  But the gifts that await for anyone who has the courage to do so are enormous.  So please read and #beinspired.
Hi!!!  So, we met on the set of Cloak and Dagger and you were my fabulous makeup artist, but you didn't start off as a makeup artist.  You started out as an actor.  Tell me about your journey.
Funny enough I've always been into Theatre, Acting and Entertainment since I was a child. I did drama camps in elementary and media arts camps in high school. I was in the Drama Club in high school, on the Modern Dance team and in the choir in school and church, and President of the Videography Club. So, for me going to college as a Theatre Major was a no brainer! But my family didn't necessarily understand.
 Because my dream was to attend UCLA, I purposely failed most classes at LSU except Theatre which lead to my Mom eventually sending me to L.A. to see if I could pursue my initial dream of becoming a film/tv actress.  Unfortunately, I learned really fast that while I was getting callbacks and small featured background roles, acting was not my true passion. I found myself paying more attention to the world behind the camera.
The road twists and turned from production assistant gigs to background casting assistant to heading back to New Orleans where I got offered a dream job as a makeup artist for the MAC.  I used all my industry contacts to eventually fight my way into the film/tv world of makeup. And here I am 15 years later.  I never knew how I would end up in the industry, but makeup is truly where I belonged and I worked so hard to get here!
Doing makeup for a television show is so different from say your own makeup or going to a makeup counter for some tips. What is the creative process for you, as a makeup artist, on a TV show?
In my eyes all forms of makeup is art. Whether it be something as simple as finding the right match to skin tone for anyone who sits in my chair to making sure my actors are ready to be in the mental space of their character for that day.
 As a TV makeup artist with a theatre degree, I research not only the characters of my cast, but I also research my actor's personality through makeup and looks they are used to. I will research some past roles they have had, or red carpet/media looks, if available.
And usually you can find a few key techniques that they prefer. Doing this helps me understand their comfort levels and if I can push the limits depending on their new roles. We may not always agree, but in the end, there is always a compromise that all creatives involved end up happy with.
Ok, I have to tell you, your whip sharp and your memory beats mine any day of the week.  The amount of knowledge you need to have at your disposal to work on a TV show, at the pace we work at. What types of knowledge did you have garner in order to be taken seriously on a professional level? 
Common sense, multi-tasking and a very thick skin!!! And maybe a little bit of telepathy LOL!!!! Learning your department and cast needs before they have to tell you will take you a LONG WAY. You have to be able to be a secretary, therapist, nurse, Mom, baby-sitter, friend, sister, etc. Basically, a Jack of All Trades. Applying makeup is probably the most fun part of the job sometimes. There is so much more that I do especially when working in the trailer that people will never understand.
This pandemic has had us all thinking about our place in the world and our part in making it better.  Tell me where your thoughts have led you and your future goals to make this world a better place.
Honestly this pandemic has been the first time since I was a child that I wasn't sure if the industry I spent my life working towards would be something that would be considered essential in the future. The idea of that SCARES me!
But if I'm going to be transparent, I think I needed this shock. It made me sit down and not only evaluate myself but the survival of others. And for once I recognized more than ever how blessed my life has been the last few years…if the only major concern I have is will I be able to step on a set again then I need to check myself!
And I started to think back at how HARD it was for me to get here and how poor I was at certain parts of my life, but my dream kept me fighting. There are kids and probably a lot of adults out there who never even had any type of dreams to keep them hopeful. So, I started thinking of ways I can do my part to make that change in someone's life one day. I've been working on some Non-Profit ideas for child and adult programs to help encourage hope. Because if there is one thing this pandemic has shown all of us is that NOTHING is guaranteed, and multiple sources of survival and talents are necessary!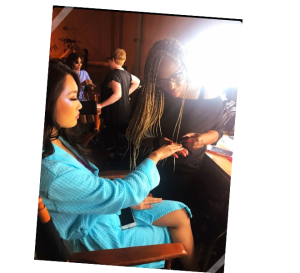 What was one of the hardest mountains you had to climb, personally, while you were trying to achieve your dreams and how did you deal with it?
I don't think there is ever really ONE hard mountain you climb on your journey to your dreams. But if I had to choose then it would be losing my Dad in a car accident at the age of 11. He was my biggest supporter as a kid and it's extremely hard not having him here for any of my accomplishments or the ones to come.
If you had to give one piece of advice to someone who is trying to pave their own way, what would it be?
Pray and notice the signs of where you are meant to be! If every time you think of giving up and a phone call or an opportunity reveals itself, don't doubt it! No one will believe in you more than you!
Chicken or egg?
2 chickens that produced the egg!
If you had a superpower, what would it be?
To time travel or unlimited wishes.
What's one thing you'd do differently if you were to start this process over again?
Be more financially responsible in my 20's!
Who has had the biggest influence in your life?
Anyone who is living their dreams. I love talking to and meeting people who live their passions.
What are you most proud of?
Never giving up!
Do ghosts exist?
I'm from New Orleans of course they exist!
What kind of music do you like?
 My playlist is so random but the way to my Heart is 90's R&B and Real Hip-Hop! But don't forget my degree is in Theatre so Little Shop of Horrors soundtrack is likely to pop up too!
Existential question: If you had the option to do life all over again, would you? And no, you can't start with the lessons you've learned go around.
No, I wouldn't I think each life is meant to be lived once and learned from every day. And if we do get to come back as someone else then I hope we learn different lessons and get better every time.
#beinspired