Sanjay and I met while he was screening and promoting his documentary feature, Food Chains, which focused on the behind the scenes struggle of farm workers trying to ask for a penny more in their wages and taking on the powerful supermarket chains in doing so.  His new film, Gather, follows the Native American plight of connection and re-connection to their heritage through food, is his best work yet.  It was just beautifully reviewed by The New York Times and given their Critic's Pick…. eeek!
I am struck by Sanjay because, for me, he is someone who is following his heart to build his own path and that path is about doing something good in this world for others.  I consider him a good friend and I am very happy to bring his story to you.  I hope you enjoy and I hope you stay inspired.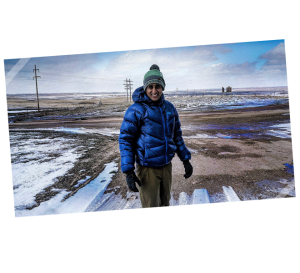 An independent filmmaker route is definitely not for the faint of heart.  In the past, we've spoken about how you self-funded, the uphill battle of getting people on board.  What guided you to initially start on this creative journey?
I never really considered myself a creative person. I studied music but I never felt like I was an artist. Somewhere along the way, in working in human rights, I began taking photos. And I began exploring the artistic side of photography. When I tried making my first short film, Ocean Monk, I definitely focused on the artistry of imagery rather than the story line. That little film did pretty well on the festival circuit, but it also revealed how complicated filmmaking was. But I enjoyed it.  And I made a few more shorts before tackling a feature – Food Chains
I'm sure you wanted to jump ship at some point…or many points.  Especially, in the beginning, when you are the only one setting the bricks down, the uphill climb can feel lonely.  You now have a strong support system.  What did you hold onto to make your dream into a reality?
By the time I started making films, I had over 15 years of experience working on human rights and peace building campaigns around the world. I learned how to be pretty resourceful. But I never really had the chance to work on large teams or to lead them. I learned pretty quickly as a filmmaker that I had to really be a motivating force and less of the introvert I was. At the same time, I had an unusual spiritual background. I had the blessingful opportunity to study meditation with Sri Chinmoy and traveled around the world with him. He taught me the importance of humility, which I came to realize as the source of true confidence. I understood that leadership wasn't assertiveness but oneness. That ideal helped me to build a strong network and support system and to learn to find ways to bend my goals so that they meshed with other peoples' goals too.
A lot of your work revolves around food…the first film of yours I saw was Food Chains and it definitely opened my eyes…sourcing of food, the invisible people behind what we, as consumers, see at the supermarket.  As an independent filmmaker, what is it about this subject matter which attracts you?
You're the best! I was so grateful to have met you thru Food Chains!! I'm really interested in how hard people work! And there's almost nothing more difficult and challenging than growing food while simultaneously being the source of so much sorrow and oppression. Food is supposed to be healing and I've wondered why there's so much hidden sorrow in the food system. That's what I try to explore – as well as the solutions to that imbalance.
You also made a film about the longest race in the world…3100, Run and Become.  I had no idea a race like this even existed…in Queens, NY no less!  Tell everyone about your connection to running and this human connection to running you try to portray in your film.
I was a competitive runner when I was in college but the joy I got from running came more from winning than just getting better. Racing was much more fun than training. I never really saw running as more than just fitness even though I had some friends that were pretty amazing runners.
It turns out that when I moved to NYC, I moved to a neighborhood where the world's longest race was staged. It was 3100 miles and it took place entirely around a 1/2 mile loop. That was too crazy for me to comprehend until, 20 years later in 2015 I met a Navajo ultra marathoner, Shaun Martin who told me how the Navajo used running as a prayer. He intuitively understood the spiritual benefit a race like the Self-Transcendence 3100 miler could hold. And when I ran with him, I realized he was getting much more out of running than I ever had. He looked at running as a prayer, where one's feet were praying to Mother Earth and one's breath inhaling Father Sky. Running could connect me to the universe if I had that perspective.
And so, that idea drove me to making a film about the runners who take on the 3100 mile race and why they do it. Their motivations are as old as time and their use of running harkens back to a connection most humans have lost – to both their feet and to the Earth.
Now we're at Gather.  You're shedding light on the Native American population who are reclaiming their identities through food sovereignty.  I found it to be quite powerful.  What drove you to make this film?
You were so kind to watch! That means so much to me.
The story of our food system in America is rife with oppression. Obviously people know about slavery and Food Chains looked at the legacy of slavery in modern agriculture.
But the first sin was the theft of land to build our food economy. That early colonial and American economy was agricultural. And the land the colonizers needed was already occupied. So, to build an extractive economy rather than maintain the relationship to land that Natives had – that of being stewards – the Natives were forcibly removed.
That inequity exists in the food system – for all of us. But not all of use are aware of that. I hope Gather increases that awareness.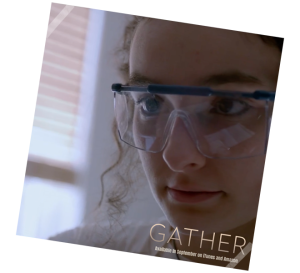 Why do you think you keep coming back to this connection of food and the human spirit?
That's a great question. So many great documentarians are doing such great work on political and technological topics. With all the great food documentary work out there, I feel most of that energy is going to the culinary side of things. I try to focus more on the solutions to problems in our system.
What was one of the hardest mountains you had to climb, personally, while you were trying to achieve your dreams and how did you deal with it?
It took me a while to find the place within myself where good ideas originate. And when I say "good ideas" I mean those that are relatively devoid of ambition and ego – things that can hopefully be of service to others either now or in the future.
I try to use my meditation practice to give me that general foundation and access to my best self.
So, basically, my answer to this question is that I am always the problem! My mind stands in my way. It's too noisy and full of itself. So, I need to practice techniques to marginalize it and get a bit closer to the part of myself that wants good fulfilling things.
If you had to give one piece of advice to someone who is trying to pave his or her own way, what would it be?
Try to silence your mind as much as you can – and find ways to get in touch with your spiritual heart. It's there where creativity and confidence flow together.
Chicken or egg?
Egg!
If you had a superpower, what would it be?
Stay healthy til I was 200 years old.
What's one thing you'd do differently if you were to start this process over again?
Ahhh – I'd learn to listen more!
Who has had the biggest influence in your life?
Sri Chinmoy
What are you most proud of?
That I haven't burned too many bridges – yet.
Do ghosts exist?
Yes!
What kind of music do you like?
I love movie scores.
If you had to do it all over again, would you? And no, you can't start with the lessons you've learned this go around.
Nope! I've been so fortunate. And maybe lucky! I don't want to chance it.
#beinspired