I am always in awe of people who pave their own way, write their own stories.  Why?  Because the climb is steep and there are a lot of places where you can lose your grip, fall.  And fall, you surely do.  So it's all about what it takes to get back up.
That is exactly what this storytelling duo, Courtney Kotloski and Natalie Sorrentino, otherwise known as Gnat & Corky have done. They teamed up to write and illustrate their own children's books, on their own terms.  The catch?  Each of their characters is based off of a real life child.  The goal?  To tell universal stories through these little beings.  For me, Courtney and Natalie are heroes because they use their talents to highlight someone else's heroism.  So check out my two new #wcw and let yourself be inspired by these two beautiful ladies.
You could have written about anything, so why base your characters on real children?
Children have a perspective that we sometimes forget still exists in all of us. Although these stories are about kids, there is something that everyone, at any age, can find and hold onto. This series is for dreamers- and children, of all people, seem to be able to bring a light back to anyone that has dimmed. The stories transcend age. The hope is that everyone can see himself or herself in the paint and hear themselves in the words.
What was one of the biggest challenges along the way and how did you deal with it?
Rejection- it's always there. It's a fear we all have, especially when you're putting your heart and soul on the line. But, when you believe in something, you have to silence the negative thoughts, take a "no" graciously, and keep moving forward. Some of the greatest artists and writers we have ever known have had a seemingly insurmountable amount of "no's". Looking at his or her life story and the inspiration they bring, is tremendously insightful and can bring hope to anyone who is trying to fulfill a dream.
You had a specific vision about how you wanted to bring these stories to life. What's one piece of advice you'd give to someone about to embark on a similar path?
Keep your soul. Don't sell out. Work hard. Be humble and always be kind. (and drink the wine)
Chicken or egg?
Love- love always comes first.
If you had a superpower, what would it be?
Corky: Cure disease
Gnat: Time travel
Who has had the biggest influence in your life?
Corky: From a writing perspective- Shel Silverstein. I used to memorize his stories and poems and share them for show and tell. He was just a fearless, quirky, irreverent, funny, and unique man. I love all of his stuff. For the rest of it- I am honestly influenced by everything around me, because I'm probably the most sensitive person on Earth.
Gnat: It's SO hard to pick one!  From a creative perspective, I will say, Jim Henson.  As a child, I would disappear into his world… the quirk, sweetness, sadness and at times, a little spooky.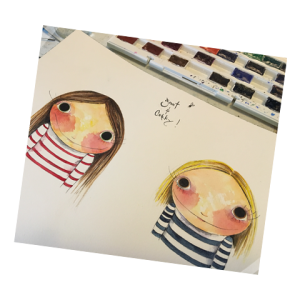 What are you most proud of?
Corky: My children- I still can't believe I made them and with the love of my life!
Gnat: Ditto on above…My beautiful babies with the love of my life & soul-mate.
If you didn't have to worry about making money, what would you do with your time?
Corky:  This.
Gnat: Continue painting & add some travel with the fam in there!
What's one thing you'd do differently if you were to start this process over again?
It's funny- there have been some bumps and some oopsies, but we ended up right where we need to be and we are still learning and growing. It's a constant process of re-evaluating, strategy, leaps, and new horizons. We wouldn't change a thing and we are so hopeful that world loves this series and these kids as much as we do!
What special qualities did you look for in the children you have chosen to write about?
Every child has something special to share. We wish we could write a story about every single kid who submits. Sometimes it's just a really funny answer or an insight that needs to be explored deeper. Sometimes we go after a particular story because of the social impact and relevance. The responses to our questions are so funny and profound that we have created a book, "The Book of Answers" that will be published in the middle of the Gnat & Corky Series. This will be a sweet little book that shares the answers from the children that have submitted on our website (www.gnatandcorky.com)